* * THE MUSEUM IS OPEN 10 am – 6 pm DAILY * *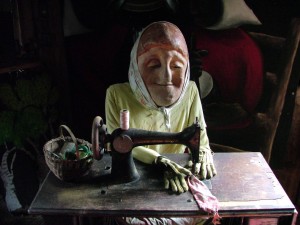 Season Opening Celebration June 16th 2pm!!
The Bread and Puppet Museum is a massive accumulation of the puppets, masks, paintings and graphics of the Bread and Puppet Theater, housed in a 150-year-old barn in Vermont's Northeast Kingdom, 25 miles south of the Canadian border. It is one of the largest collections of some of the biggest puppets and masks in the world. It was created in 1974 when Bread and Puppet Theater moved to this former dairy farm after a residency at Goddard College, and before that close to a decade in New York City. The museum is full to the brim; its population density is an expression not only of the accumulations of time but of the urgencies which inspired the making of so much stuff: the poverty of the poor, the arrogance of the war-mongers, the despair of the victims, and maybe even stronger than that, the glory of this whole god-given world. And naturally, all this will decay in due course.
Grouped according to theme, color, or size, the puppets recreate dramatic scenes from bygone shows and form striking compositions with hand-printed banners and paper-mache reliefs. Over the years, the collection has expanded to fill two floors in the barn and now spills out into the woodshed, the Cheap Art bus across the road, and onto the walls of the Paper-Mache Cathedral behind the barn. There's also a museum store bursting with Bread and puppet's distinctive posters and publications.
The vast contents of the Museum are the result of a half-century of creativity and hard work, which began in New York City in 1963. Peter Schumann, founder and director of the Bread and Puppet Theater, is the artist, but the actual production of the puppets is mostly the result of extraordinary communal efforts. A core group of
dedicated, experienced puppeteers, joined by friends and neighbors and apprentices build the puppets and the masks, applying layers of paper-mache over Peter Schumann's sculpted clay models. And then, using simple materials like cardboard, poplar saplings and rummage-sale clothing, construct figures of impressive size. In the summer, much of this work goes on in the Museum's front yard, next to the Quebec-style clay oven in which Schumann bakes the famous sourdough rye bread.
One would have to go far indeed to find anything comparable. And since this museum replaces the traditional museum's ideal of preservation with acceptane of more or less graceful and inevitable deterioration, consider making your visit sooner rather than later.
The museum is open June 1 to November 1, daily 10 am to 6:00 pm, and is also open before and after evening performances. There is a museum tour every Sunday at 1:00 pm during July and August. During the cold months, it is officially closed, but may be opened by appointment or chance. Admission is free; donations are welcome.
Museum Photo Gallery      Directions